A little about me – Ian Eric:
I have performed in various bands since the late 1980's, and as a solo acoustic entertainer since the mid 1990's.
A native of Long Island, NY, I moved to the Phoenix, AZ area in late 2004 and quickly began performing in local pubs and restaurants.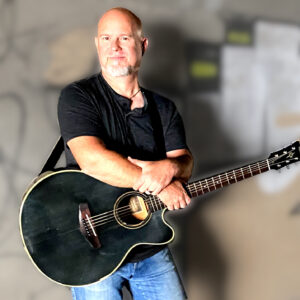 Since the beginning of my career, I have been known for performing songs that one would not expect to hear from a solo acoustic performer. While I have a large catalogue of "staple" songs typical to a solo acoustic show, my sets are chock full of unexpected choices that make audiences take notice. That's a big part of my inspiration when I perform. On any given evening, there may be scores of performers around town playing the same typical solo-acoustic stuff. I like to step out of that box as much as possible. The challenge is to choose songs that are well-known, yet very unexpected, and that can be arranged and performed successfully as a one-man act.
The addition of "loop" performance – a technique in which the live guitar and/or vocal is recorded as it is performed, and then played back, and additional layers or "tracks" recorded over the original – has added a whole new dimension to my live shows over the past decade. Often songs develop seven, eight, or more "layers", including percussion parts slapped on the guitar or "beat boxed" into the microphone, multi-part vocal harmonies (no digital processing here!), and more. Some original and cover songs end up sounding like a full band on stage. Nothing is pre-recorded; I do not use backing tracks or drum machines of any kind. I record all layers live and on-the-fly. It's quite a treat for the eyes and ears – you can find plenty of examples of this looping technique on my videos page.
With an ever-expanding list of songs and artists, I continue to entertain and hopefully surprise audiences at every show.
Please check my calendar to see when I'll be playing at a venue near you – and expect the unexpected!